Miss December 2011- Stephanie Hamling
My name is Stephanie Hamling. Originally from Wonderview, Arkansas, I now live in our state's capitol, Little Rock. A freelance graphic artist, I also work as a social media liaison and webmaster for a local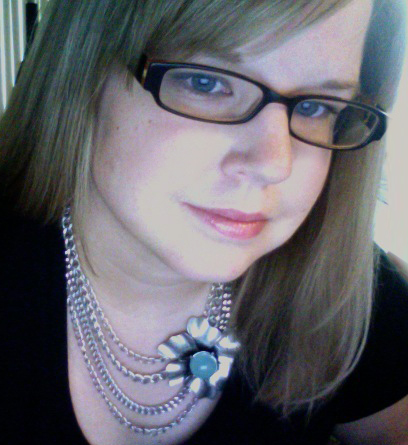 grocery market. My joys include gardening, cooking, photography, spending time with family, and blogging. Proactive Bridesmaid, my blog, started in 2005 as a way to keep my friends entertained and updated on my life. Like many bloggers, I had no thought that it would reach a wider audience. If I had, I might have chosen a more easily explained title.
Why Proactive Bridesmaid? When you come from a big Catholic family, two things that are a given — you are going to be attending a lot of weddings and a lot of funerals. When I started blogging, I was between my sixth and seventh times being a bridesmaid. I topped out at eight. Acting as a bridesmaid can be a good metaphor for life. Sometimes you do things you wouldn't normally do for people you love, but sometime you have to speak up and let people know if you think they are making a bad decision. (Wood-grained satin and silver pantyhose, I'm looking at you.) And then you keep loving them and stand beside them, no matter what. So, that's the why of Proactive Bridesmaid; stand up and speak up. Where better than a blog to do that?
On Proactive Bridesmaid's Facebook page, I describe myself as "blogging about grace, grits, and everything in between." I like to write about topics, usually everyday things, that inspire awe. I also like to write about cooking. The two collide more than you might imagine. I still feel a sense of wonder at kitchen alchemy and was blessed that many of my cooking skills and implements came steeped in family tradition. Dough that raises and egg whites that whip into snowy peaks still amaze me. Don't even get me started on my Grandma Gangluff's iron skillet. I'm a Southern girl through and though. When I was about thirteen, my daddy opened the car door for me and said, "I want you to know what it's like to be treated like a lady, and, the first guy who doesn't, I'll kick his butt." Moments like that shaped the way I ask to be treated in relationships. My parents also shaped the way I treat others. They expected more from me than they knew the rest of the world would, and I do my best to live up to that.
My blog has become my family anthology, photo journal, and go-to cookbook — a modern Book of Days. It's a welcome mat to my life. Sometimes, it's my therapy. My style has changed radically since that first post. That's appropriate, because so have I. When I was in the midst of my honors college entrance interview at eighteen, the interviewer said, "You can write." It took close to a decade for me to believe him. I finally realized that I didn't have to write to change the world, I had to write to change me.
Are you interested in nominating a fellow blogger for Blogger of the Month? Contact julie@arkansaswomenbloggers.com with your nomination. Click here to read about past recipients of the Blogger of the Month honor.