Hi, My name is Kelsie.  I live in Central Arkansas and blog at www.pinkandrick.com.  I started blogging this year.  I'm shocked that it's already one of my favorite hobbies.  In full disclosure, my journey into blogging isn't always smooth, so I wanted to share these confessions of a new blogger.  I hope you can relate!
1.  I've switched topics ten times in six months.
2.  I have to take twenty pictures, to get one that looks good enough to post.
3.  If I'm in a conversation that isn't about blogging… I tune out.
4.  When something funny happens I automatically think, "how can I turn this into a blog post?"
5.  Family members say things like, "Don't put this on your blog."
6.  Sometimes I have to take really close up pictures… because my house is messy and I don't want everyone to see.
7.  When I read a really good blog post, I instantly think, "I wish I wrote that!"  Even if the topic is the about a couple's honeymoon…
8.  One of my biggest dilemmas is, "should I switch to WordPress?"
9.  I need to go to rehab for obsessively checking my blog traffic.
10.  My husband just walked by and said, "you need to quit!"  He's just joking… I hope.
11.  When I refer to,"my readers," I'm usually just referring to my mom.
12.  I'm so excited to find Arkansas Women Bloggers!
I'm so impressed by the work Arkansas Women Bloggers is doing, and I'm glad to be a part of it.  Now that I've shared my secrets, do you have any confessions?  Come on, we're all friends!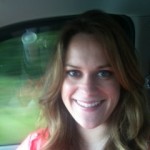 Hi! My name is Kelsie.  I live, work, and play in Central Arkansas.  I started my blog six months ago after my sister, who lives in another state, wanted to read about my two crazy dogs (who tear up everything).  Since then, my blog has documented my DIY projects, personal finance goals, and marriage.  I hope you'll stop by and say hi!  I'd love to find some bloggers in Arkansas to follow and occasionally ask for advice.