Written by Jamie of Jamie's Thots.
Like most people on Pinterest, I love pinning ideas for recipes including healthy alternatives and some not-so-healthy-but-oh-so-freaking-good delights. I especially love the cute holiday-related recipes including the Pilgrim hats made out of cookies and Rolo candies, or the deli dishes made into the shape of a Christmas tree.
One night when I was pinning away, I daydreamed of actually making all of those pretty dishes with my nieces and nephew someday. Or making them for co-workers or other friends at a potluck. I envisioned making the dishes then showing the beautiful creations to anyone who would look. I'm a woman of multiple talents but making pretty food is not usually one of those talents so I loved the idea of making pretty food that actually tastes good.
Then it hit me. I don't think I could handle it if people mangled my beautiful creation. I think I would be OK with individual servings being eaten, but I can imagine myself standing over the Christmas tree-shaped deli tray and rearranging the pieces as people fill their plates. I've never been that neurotic before, but I can see it happening.
That's what makes my Crispy Christmas Wreath recipe so perfect.  It's kinda pretty, it tastes fantastic and it's so easy that I don't mind when it gets mangled.
This recipe is really perfect for potlucks, office parties or just to have around the house. Fill the center with other candies or cookies, and it's a perfect small gift for a friend.
Basically, all you have to do is make a standard recipe for rice krispie treats but add green food coloring to the mix and instead of shaping them into bars, shape the goo into a wreath shape then put red candy on it.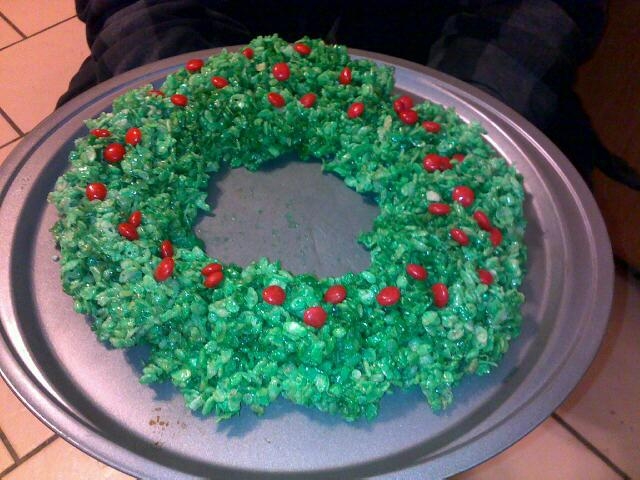 Would you like the instructions in one place?
Here's what you need:

6 cups crisp rice cereal (any brand is fine. You can also use cornflakes to make it more holly-looking)
Bag of marshmallows (I think the mini ones are easier to handle)
1/2 teaspoon vanilla
3 Tablespoons butter/margarine
Red hot imperials (or red M&Ms if that's more your family's preference)
Green food coloring
Pizza pan or similar circular pan (plate might be too small)

What do I do with all that stuff?
The first part of this is going to seem really familiar as it's the standard recipe for making rice krispie treats.

Melt the butter in a sauce pan (don't let it scald, that will ruin it and smell nasty)
Slowly add the marshmallows, stirring them in over medium heat and making sure that you're coating the melting marshmallows in the butter (that last part is important).
Add in the vanilla extract
Add in green food coloring, mixing until the desire darkness.
Slowly add in the cereal, stirring about two cups in at a time to make sure it's properly coated
When this part is done, immediately transfer the goop over to the pizza pan and let cool just enough that you can tolerate touching the mix with your bare hands. Don't let it "set" or harden, it just needs to be cool enough that it's touchable but still pliable.
Form mix into the shape of a wreath and sprinkle the red candies over the wreath, pressing each one slightly into the still warm mixture so they stick.
Let cool … then enjoy!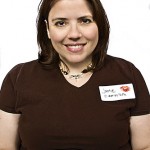 Jamie Smith is a professional reporter and writer who enjoys "letting her hair down" on her blog, Jamie's Thots. With her business, Jamie's Notebook, Jamie writes social media profiles, press releases and website copy. She is also a freelance reporter for The City Wire where she loves finding creative stories about business and the arts. Jamie and her husband John purchased their first home in December 2011 in Elkins and are enjoying raising their two dogs and two cats. When not writing or spending time with her fur kids, Jamie loves to spend time scrapbooking.