Hello! I'm Angie Albright, and I blog at A Growing Season.  I've been doing my thing there for about two years, and I love blogging a little more than a person should. I love the mix of writing and technology—two of my passions!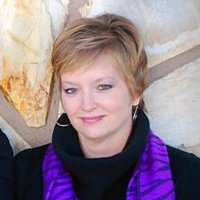 My blog title "A Growing Season" is more fitting than I would have realized when I chose the name. I've had a book in the works for a while with a working title of A Growing Season, which I chose to represent several generations of my and my family's farm life. But over the last couple of years of my blog's life, I've noticed that indeed our lives, our careers, our children, well, everything has its growing seasons. My blog started out as a sort of memoir about farm life as a kid in Iowa, but it's come to mean a lot more than that.
Now get this . . . my blog is called "A Growing Season" and I just went this week to work for the Botanical Garden of the Ozarks, a place I've wanted to work for years. I couldn't be more thrilled. This is especially true since I can't actually grow plants or other botanical wonders myself. I get to raise money for the Garden and tell its story to the world. On the side I will be writing, writing, writing—for myself and for others.
[Insert here all the wise and wonderful and sage and serious things I wrote about watching people and things grow, blah, blah, blah.]
Instead of all that serious stuff, I'm throwing out a few things about myself:
1.      I am a single mother of a 16-year-old son, but I hate the phrase "single mother." It's too loaded with negative connotations. Even though I haven't been married for ten years, I am hardly a single parent. A whole village raises my fantastic kid with me.
2.      Because I taught college English for 17 years, people often say things to me like, "Oh, I better watch my grammar around you!" Yeah, don't say that. English teachers are people, too. We only notice really bad grammar, and if you're buying dinner or drinks or you're George Clooney we just don't care that much.
3.      In 2005 I hiked the Camino de Santiago, a 30-day, 500-mile trek across northern Spain. It's just too obvious to say that it was life-changing (and painful, frankly), but it was. The lessons I learned and the rewards of that adventure continue to serve me even today. One day I will do it again.
4.      I went to college for a really, really long time and loved every minute of it. I would do it all again in a heartbeat. I got my bachelor's and master's in English from the University of Arkansas. I did five years of doctoral work in English, also at the UA, but just when I was in the middle of my dissertation I became a single parent (much more a single parent back then than now), and the dissertation sits in a box in my closet. Someday, maybe.
5.      I really, really love that I grew up in rural Iowa. Every kid should be so lucky to grow up as I did. I actually didn't like farm life as a kid. I tried everything I could to get out of walking beans or feeding the livestock. Ironically, I'm now the one of the three kids that pays the most attention to agricultural news and enjoys things like petting the calves at the dairy farm I visited recently.
6.      I also really, really love Arkansas and don't ever really think about leaving it permanently. Fayetteville has been the love affair of a lifetime for me. It's my place. Every now and then I long for a brief escape, but mostly I like knowing someone just about every place I go.
7.      I gave up on winning Mother of the Year a long time ago. I've let my son watch inappropriate movies for years; I don't cook much; and my teenager knows a bit too much about how to "freshen" dirty clothes in the dryer. On the other hand, he has a wicked sharp sense of humor (his timing is just dead on), and he's an absolute sweetheart with small children and old people. And middle-aged people. And other teenagers. Okay, he's a sweetheart with everybody but me. I think he'll turn out okay even though I have my doubts when he says things like, "We have a toaster? Since when have we had a toaster?" Ummmm, always? Toast is the Albright National Dish.
8.      I'm usually one of the last to leave a party. I love a good social get together or night on the town. I was a painfully shy child so this social part of me comes as a great surprise to my mother.
I look forward to getting to know my fellow Arkansas Women Bloggers this month! I'm so honored to call this site home for November. I'm in good company!