"Debbie Arnold is the quintessential  wife, mother and grandmother."  Or so said my husband in response to my angst over writing this bio piece.  I, of course, know better.  But I do agree with him on some things.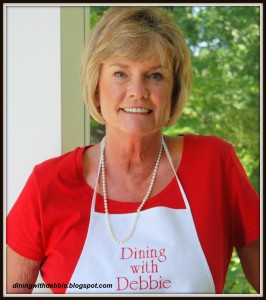 I love holidays and holiday decorations, especially Christmas.  I dearly love warm summer sunshine, a homey fireplace in autumn, a  pristine snowfall in the winter, the soft green of new spring growth and the beach anytime of the year.  Any beach.  Anywhere.
I  heart  cookbooks, classical literature, beach trash, food magazines and the funny papers.   I've read The Outsiders over thirty times and still think it has more value to kids and adults  than Twilight ever will have.  These days I am especially loving Fancy Nancy and  Wimpy Kid.
I adore my daughter, my son-in-law and  above all else, my two grandchildren. I tolerate their dog, Thelma Lu.
I love Hubby, too.  And I have for a very long time.  Forty-three years in January to be exact.  Technically, longer than that if you start counting from the day I met him.
I taught for thirty and a half years and was good at it.  That from my students.  I  loved  every day  (well, almost)  of it, and that from me.  I think having good grammar skills is important but having your own voice is better.  I also know that an incomplete sentence does not mean an incomplete thought.
I believe that cooking is an art form.  Most days I'm Norman Rockwell.   Sometimes I'm Picasso.  I definitely have my Salvador Dali moments.  Actually, there are lots of paint-by-number days.
I was born during a snowstorm a week before Christmas in Sheridan, Arkansas.  There were times when I felt cheated out of birthdays.  Not anymore.  I'm just happy to keep having them.
Winter, however, is not my favorite season.
Mamaw taught me how to make homemade potato chips and the best chicken and dumplings; she also taught me how to wring a chicken's neck.  Nonnie taught me to love family and traditions and why composting is good for the garden.   Great grandma Easley taught me that grass was a weed and there was no place for it in the yard.  Only flowers.  Lots and lots of flowers.
Arkansas has always been my home.  I choose  to be here.  I'm proud to be from here.  I did spend a year in California.  My mom always said that was when I picked up my stubborn streak.  I really think I came by that naturally.  Inherited it to be exact.  From her.
I always thought that I was a daddy's girl until my mom died.  Now I know better.
Red is my favorite color.   Unless it's Monday when my favorite color is blue.
I once grew thirty varieties of heirloom tomatoes in my garden way before growing heirloom tomatoes was cool.  I know over two hundred ways to cook with tomatoes.  My favorite tomato dish is a BLT with cheese on sourdough bread with homemade mayo and loads of bacon.  But only during the summer with Cherokee Purples.
If I was cast in Steel Magnolias, I would probably be M'Lynn.  I'd rather be Clairee.  I'm not cranky enough to be Ouiser.  I played Meg in Little Women and Lady Thiang in The King and I.  I was a student director for South Pacific.  But I am definitely not a drama queen.
The views of Tuscany from a hot air balloon on a  crisp spring morning and Paris at midnight from the Eiffel Tower are not overrated.  I highly recommend both.  If you are fortunate enough to zip line in the rain forest of Costa Rica or stand on the Continental Divide, do those too.  I don't think you can look upon the Grand Canyon and not know it was God created.  I believe life is a journey, not a destination.
I helped Pa roof a house once.  During the summer.  When it was very hot.  I learned why it is important not to quit.
From Papaw I learned about gee and haw.  I also learned that mules do quit.
I come from good genes.  And I often wear jeans.  Actually, I wear them a lot.
I'm named after Aunt Sue, the kindest soul on Earth.  I did hear her say "sh*t" one time.  She was so embarrassed that she almost passed out.
I believe that volunteering is an obligation regardless of life's status.  There's always a place and a time.  A gift of yourself cannot be measured quantitatively.  Only qualitatively.
My bucket list will never be emptied.  When something comes out, something else goes in.  I rather like it that way.
I think it's imperative to teach your children to say, "Yes, m'am or No, m'am." And to always be fair and kind.  I think it's even more important to teach them to pray.
I am blessed beyond measure, but I sometimes have trouble remembering that.  At times, I get afraid of stretching beyond my comfort zone.  I'm glad I do though.  Some of my greatest adventures and best friendships are the result.
I know that a good laugh and a long walk can solve most of my problems.
I'm a long way from perfect, but I'm content in my own skin.
I don't believe God makes mistakes or gets moody, but I do believe He loves me even though I do. Again and again.
I may occasionally miss a funeral or a wedding, but I never miss my hair, nail or toe appointments.

Debbie Arnold can be found blogging at Dining With Debbie where she writes about food, faith, family and fun.  Her restaurant reviews are located at Deb Eats.  She co-sponsors Arkansas Bloggers and welcomes guest posts from Arkansas Women Bloggers at any time.
She and her husband, Circuit Judge Gary Arnold, split their time between their homes in Benton and on Beaver Lake in Rogers.  Their daughter, Dr. Emily Hinton, resides in Fayetteville with her husband, Dr. Tommy Hinton, and the Perfect Ones, Connor and Kate.
Prior to spending over thirty years as a mostly seventh-grade English and Pre-AP English teacher, Debbie spent several years traveling as an officer and as national convention chairman with The National Association of Junior Auxiliaries.  Years spent as a homeroom mother more than qualified her for those jobs.
She is a graduate of the University of Arkansas at Fayetteville with a BA degree in Speech Pathology.  She holds a MSE  in Learning Disabilities from the University of Central Arkansas.
Other places you can find Debbie:
Facebook:  Debbie Horton Arnold
Facebook: Dining With Debbie
Twitter:  @diningwithdeb
Pinterest: Dining With Deb
Email:  diningwithdebbieblog@gmail.com