A few weeks ago we invited you to participate in a Secret Santa Style Handmade Ornament Exchange.  32 of our wonderful members signed up to participate.  Each player was given the mailing information of another AWB member and had 10 days to make and mail an ornament.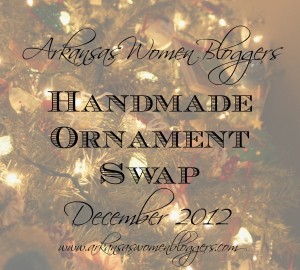 Today is the day that we reveal who we received from and who we sent an ornament to!  I can't wait to see what everyone got!  I can't wait to start collecting new ideas for making ornaments! As the final pictures start coming in we will be making a Pinterest Board to show off everyone's creations.  If you aren't following us on Pinterest yet, you can click here to do so.
If you participated in the Ornament Exchange, please take a moment to link to your reveal post in the LinkyTool below.  If you missed out on the ornament exchange, take a few moments to check out all the posts below and just remember to join us next year!
Thanks to everyone who made this a successful exchange.
Note: The LinkyTool below is NOT an open Linky.  Only links relating to the Handmade ornament exchange will be allowed.  All other links will be deleted.