Southern Girl Soapery creates handmade soaps inspired by the traditions, stories, and scents of the South. Each small batch is stirred, cut, and wrapped by hand. Over a decade has gone into crafting recipes and perfecting techniques. We take inspiration and ingredients from local farms and exotic lands. Colors and fragrances come from nature, never from harsh chemicals.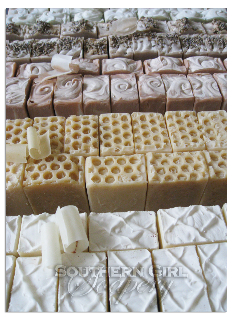 I began making soaps when I was a teenager. With intense allergies to most chemicals and fragrances used in bath and body products, I wasn't left with many commercial options. Over the last fifteen years, I've been experimenting with oils, butters, plant essences, natural clays, and botanicals, working towards the perfect bar. With my background in fine art and graphic design, form is almost as important as function. I consider my soaps to be everyday art to be used and enjoyed. Each bar is a nod to some part of my Southern heritage, from my first strand of pearls to my first sip of home brew. Because of the pride I take in the craft, I am also a member of the Handcrafted Soapmakers Guild, the only international non-profit trade association promoting the time-honored skill.
Bar Soaps:
Belle – Lavender is the quintessential scent of the South, and this bar is topped with delicate buds and scented with floral essential oil. The flowers' fragrance is balanced with a touch of herbal tea tree. Australian washed blue clay and Australian pink clay are blended with luxurious oils and butters to create this pale purple bar.
Damn Yankee – We like to tease our friends North of the Mason-Dixon line, but everyone can enjoy this luxurious soap. Scented with aged patchouli, this striking bar is embedded with cucumber, green tea, and cocoa. The creamy base includes olive oil, avocado oil, shea butter, and cocoa butter.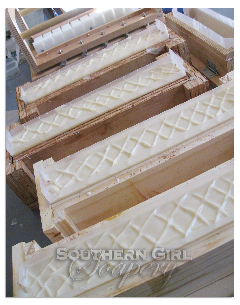 Heel & Pearls – With a sophisticated blend of floral, citrus, and earthy scent notes featuring rosewood essential oil, this bar is a girl's best friend. Natural rose clay creates sweet pink swirls through a cream-colored soap base rich in plant oils and butters.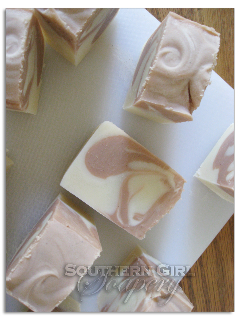 Hey, Joe – A favorite with both chocolate and coffee lovers, this soap features ground coffee beans and hazelnuts blended into a base including olive oil, avocado oil, shea butter, and cocoa butter. No scent is added but the natural aromas of coffee and cocoa add subtle scent. This decadent bar is popular with cooks to scrub up after working with garlic and onions.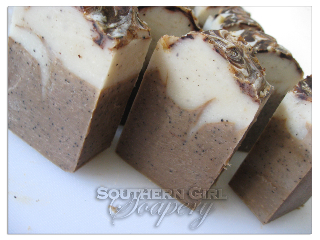 Home Brew – A favorite with Southern gentlemen, this soap features Diamond Bear Brewing Company India Pale Ale. No scent is added but the light herbal scent of beer hops remains. This tan bar with its creamy swirled top is sure to bring to mind your favorite brew. Hello, suds!
Mint Julep – Inspired by the classic Derby drink this soap is sure to be enjoyed by men and women alike. Mint Julep is minty, icy, and just a bit boozy with its blend of
pure plant essential oils, French green clay, olive oil, avocado oil, shea butter, and cocoa butter. Bring on the silver cups and big hats!
Oh, Honey! – A wholesome combination of local honey, ground oats, and milk gives this bar a scent reminiscent of Grandma's cookie jar. Combined with pure plant oils and butters, these ingredients make a scrubby,  naturally-scented bar that you won't want to be without.
Coming Soon – Sea Salt Spa Bars
Find us:
Retailers:
Southern Girl Soapery (email southerngirlsoap@att.nett for direct shipping; Little Rock, AR)
A GREAT Deal for AWB readers:
Stephanie has been gracious enough to offer you a great perk if you order her soaps!  When you place an order (southerngirlsoap@att.net), include the code ARWB12 in your emailed orders for a free sample pack. This offer is valid for direct email orders only.