Written by AWB Blogger of the Month, Miss December 2012, Debbie Arnold of Dining with Debbie.
"Marley was dead, to begin with.…Old Marley was as dead as a door-nail."
And so begins one of the most beloved of all ghost stories, A Christmas Carol.
One hundred and sixty-nine years ago the author Charles Dickens, was facing increasing financial distress even though he was thought to be at the peak of his career.   The sales of his most recently published work were doing poorly, and he had been told by his publisher that his royalties were likely to be reduced.  The father of multitudes of children and the supporter of a large extended family, Dickens was desperately seeking a solution to his financial woes.
As a child, Dickens' entire family spent months in debtor's prison in London because of the fiscal irresponsibility of his father.  At the age of twelve, Dickens went to work in a boot blacking factory six days a week for twelve hours a day in order to help support his family.  These thoughts of a childhood filled with suffering and hardship would haunt him throughout his life and are often seen as a basic theme in his works, including A Christmas Carol.
He needed an idea that would quickly earn him a large amount of money.  But under the stress of his financial woes, he was finding it difficult to write.  He lacked a story, and the fears of his childhood poverty, claimed his thoughts and time.
Out for a nightly walk during which he hoped to clear his head, Dickens found himself in the tenement district near the Thames River.  The streets were strewn with litter and lined with open sewers.  Instead of the elegant ladies and gentlemen of his own neighborhood, there were bawdy streetwalkers, pickpockets and beggars. From this dismal scene he was struck by a flash of inspiration.
He would write a Christmas story.  This would not be a story of shepherds, stars, angels or wise men, however.  It would not be a tale of Christmas festivities, trees and tinsel as we know them today.  Instead, as Dickens often did in his works, he created a cry of anger about the poverty and neglect he witnessed among London's children, about the horrific conditions which the city's poor were forced to endure, and about the lack of concern by those who  were  in the position to assist but did nothing.  This little novella has been called by some a "sledge hammer" against the ills of industrialism and commercialism.
Indeed, his message of social reform becomes abundantly clear in the character of Christmas Present who introduces us to the poverty stricken boy called Ignorance and the girl who is Want.   Dickens spares no bitterness in his description of these two:  "They are yellow, meager, ragged, scowling, wolfish…but prostrate in their humility…Beware them both, but most of all beware of this boy, for on his brow I see that written which is Doom, unless the writing be erased."  His message to us is that we as a society must make certain that no child grows up ignorant and lacking in the basic necessities of life.  We are our brother's keeper.
As Dickens' story unfolded, he became more and more engrossed in the writing of it.   He often found himself weeping and laughing, then weeping and laughing again as he penned his tale.  Dickens was known to have said that the story transformed him.  It seemed to take on a life of its own, and his characters, many of whom were modeled after people he knew, came to life as well.
After only six weeks and just in time for the 1843 Christmas season, Dickens self-published his little book insisting upon a rather lavish design in a salmon and gold binding with hand-colored illustrations by John Leech.  He set the price at five shillings so that almost anyone could afford to purchase it.  The response to the first edition was overwhelming; the initial publication of 6,000 copies sold out within a week.  Unfortunately for Dickens, due to the high cost of production upon which he himself had insisted, he did not realize the profit he had hoped. 
In many ways, A Christmas Carol  which has never been out of print, became Dickens' gift to the world. Its themes are timeless and its message universal:
1.  Spiritual wealth is more important than material wealth.
2.  It is better to give than to receive.
3.  Human beings should treat one another with love and compassion.
4.  A society is responsible for the welfare of all of its citizens.
5.  A human can always grow and change.
Scrooge's  nephew Fred says it best: "I have always thought of Christmastime, when it has come round…as a good time; a kind, forgiving, charitable, pleasant time: the only time I know of, in the long calendar year, when men and women seem by one consent to open their shut-up hearts freely, and to think of people below them as if they really were fellow passengers to the grave, and not another race of creatures bound on other journeys.  And therefore, uncle, though it has never put a scrap of gold or silver in my pocket, I believe that it has done me good, and will do me good; and I say, God bless it!"
Charles Dickens' name became so synonymous with the modern celebration of Christmas that when he died in 1870, a young London girl asked, "Mr. Dickens dead?  Will Christmas die too?"
"It was always said of Scrooge, that he knew how to keep Christmas well, if any man alive possessed the knowledge.  May that be truly said of us, and all of us!  And so, as Tiny Tim observed, God Bless Us, Everyone!"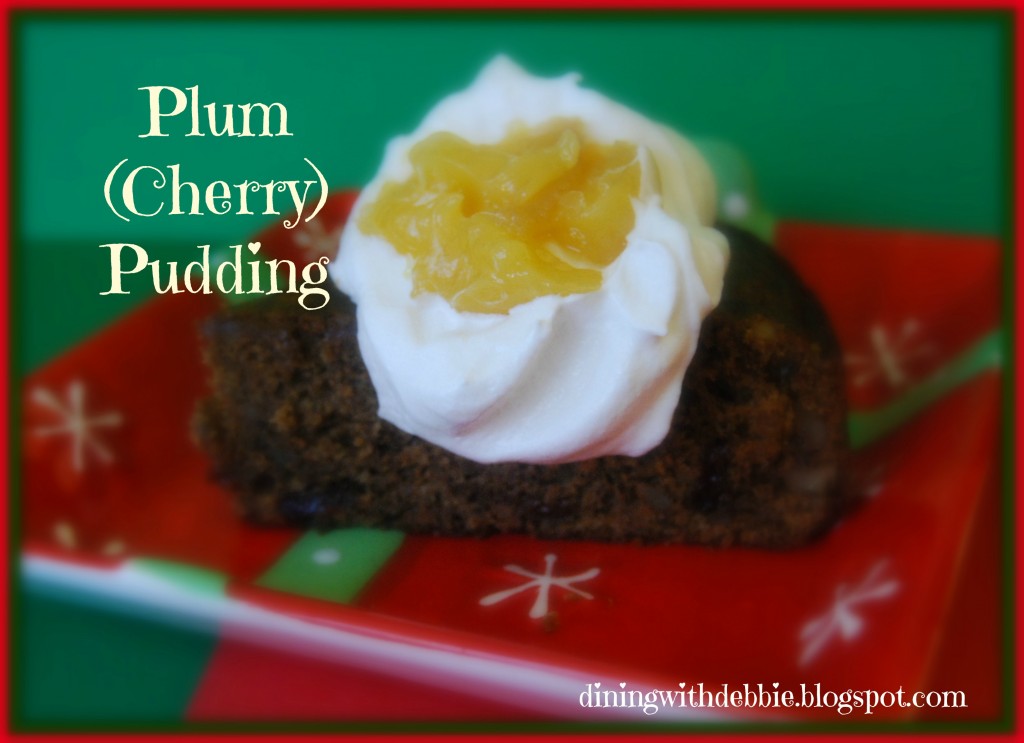 Plum (Cherry) Pudding
Unlike Mrs. Cratchit of  A Christmas Carol fame, I am not accustomed to the making of a plum pudding.  For the Cratchit family this pudding, which did not contain any plums at all, would have been the highlight of their Christmas dinner.  Typically, plum puddings were dark, moist and full of fruit – somewhat reminiscent of a fruit cake.  They were dark and hard and usually ignited with brandy at serving.  A sprig of holly would often serve as a garnish.
This version adapted from Teacher Created Materials: A Christmas Carol is super simple and a good way to extend the reading of whatever adaptation of the novel you choose to read or watch as a family (You are going to do that, aren't you?).  The Tiny Tims of your family can be as involved as you allow them to be.
1 14.5  ounce can pitted cherries (bing, preferably), drained and coarsely chopped
½ cup dried cherries plumped in ½ cup warm water (allow to cool)
¼ cup apple juice or apple cider
½ teaspoon vanilla extract
½ teaspoon nutmeg
½ teaspoon cinnamon
¼ cup molasses
2 eggs
½ cup finely chopped  toasted walnuts
1 package quick bread (I used gingerbread.)
Preheat oven to 350 degrees.
In a mixing bowl combine eggs, vanilla, molasses , spices and cider.  Add in the water and plumped dried cherries and the chopped canned cherries.  Stir well to combine.
Stir in the gingerbread mix and nuts.
Pour batter into a 9-inch round (or similar) cake pan that has been coated with cooking spray.  Cook for 30 – 35 minutes or until top springs back when lightly touched.
Cool.  Serve as is or topped with whipped cream or tart lemon jelly.
Tart Lemon Jelly
3 eggs
1 cup sugar
1 Tablespoon plus 1 teaspoon cornstarch
6 – 8 Tablespoons lemon juice
4 teaspoons lemon peel, finely shredded
2 Tablespoons butter
Combine sugar with cornstarch and mix with beaten eggs.  Add lemon juice and peel.  Cook over low heat, stirring constantly, until mixture is thick.  (I cook mine in the microwave.  Watch it carefully and stir frequently.)  Add the butter and cool. (Or you can just buy a jar of lemon curd!)
From Calico Cupboards, published by the Benton Junior Auxiliary, 1980
Other suggested holiday reading:
The New Testament
Twas the Night Before Christmas by Clement C. Moore
The Polar Express by Chris Van Allsburg
Seven Candles for Kwanzaa by Andrea Davis Pinkney
Inside-Out Grandma by Joan Rothenberg
The Littlest Angel by Charles Tazewell
The Way of the Wolf  by Martin Bell (Barrington Bunny)
How the Grinch Stole Christmas by Dr. Seuss
The Hat by Jan Brett
A Newberry Christmas by Martin H. Greenberg and Charles G. Waugh
A Christmas Treasury selected by Stephanie Nettell
Olive, the Other Reindeer by J. Otto Siebold and Vivian Walsh
The Mouse Before Christmas by Michael Garland
Resources:
David Perdue Charles Dickens Page
The Second Greatest Christmas Story Ever Told
Ten Things You Never Knew About A Christmas Carol
BBC History: Charles Dickens
History of A Christmas Carol
Text of A Christmas Carol