It's always interesting to me that even when we all blog in such different genres and with different styles, certain times of the year have us blogging about similar things.  The holidays are just around the corner and last Sunday so many of you shared about thoughts on the season.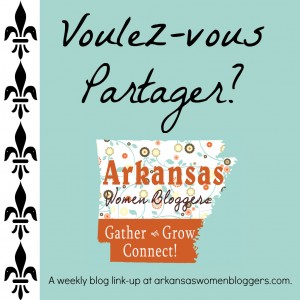 Highlights from last week:
Nikki from Just Lovely is working on a photo challenge for the month of December. She has a great list of photo prompts to help you out.
Leslie over at Nobody Gave Me the Instruction Booklet  has some Tree Drama  going on in her house.  It's a battle that's been going on for several years.  You hate to laugh at her struggles but it sure is funny!
You asked, we listened!
After receiving several requests for a longer time period for to enter links into the weekly blog linkup we have decided that we will extend the time through Monday night on a trial basis.  We will watch the stats and participation and see how it goes and will make future adjustments as needed so that the maximum number of bloggers can benefit.
SO….Voulez-vous partager?
That's French for "do you want to share?"  and we really hope you will!
The LinkyTool will be open for 48 hours.  If you miss it, you can join us again the next week!