I love reading blogs because you get a little glimpse into the life of someone else. You will read things that resonate deeply, things that make you laugh, things that make you cry and occasionally things that you disagree with. Blogs truly are a window to the world.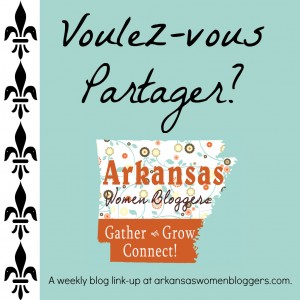 Highlights from last week:
Jessica from Life with the Bauer Boys has been dealing with fears of a miscarriage. The time spent waiting to discover if God was still in the miracle business was emotionally trying on Jessica and her family. Her reflections are beautiful.
Adrienne over at 180 from Crunchy  recalls an event from 2004 which could have been a Hallmark or Lifetime movie.  Have you ever been stranded at Christmas?
Tis' the season for giving, right?  Most of us freely give to our friends and family, searching for the perfect gift to wrap up and present to our loved ones.  Keisha at Big Pitt Stop reminds us that there are many charities that can use our help this year too.  Keisha celebrates the Advent by giving to some wonderful organizations and asks, "What about you? What strikes your heart?  Who are you committed to?"
SO….Voulez-vous partager?
That's French for "do you want to share?"  and we really hope you will!
The LinkyTool will be open for 48 hours.  If you miss it, you can join us again the next week!