Alright Ladies, we have a fun opportunity for you that might help make your lives a little easier in 2013 AND earn you some $$.
Relish!, a weekly meal planning service, is looking for some busy bloggers to review their product. Relish! is aimed to help busy families put wonderful meals on the table every night. No sloppy casseroles or expensive kitchen blunders. Instead look for everyday food…with a gourmet twist. It was founded by two busy moms. If you have a goal of getting organized and enjoying the dinner hour rather than dreading it, Relish! might be what you're looking for. Fellow Arkansas women bloggers The Park Wife and Minivan Momma (well, she has dual citizenship as she really lives in Oklahoma and is the Oklahoma Women Bloggers gal)have tried and reviewed Relish! (click their blog names to read their reviews).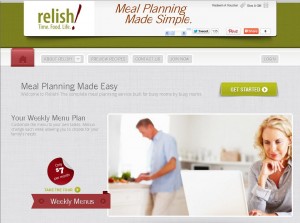 Basically, you get a weekly menu of 15 simple gourmet recipes (plus a huge searchable database of other dishes).  Recipes are separated into categories like low calorie and kid friendly, and you can also search the database by ingredient. You choose the meals you want to make and scale them to fit the needs of your family. Then, Relish! creates a shopping list with all the ingredients you'll need for the week and an easy PDF of the recipes.
Selected bloggers will receive:
a 12 month menu plan gift subscription, a $58.80 value. (http://relishrelish.com)
a 15% discount to offer to your readers
the option to receive a 20% revenue share of each subscription sale referred from your website (based on readers using a unique discount code).
Bloggers will provide:
a review post on your blog of the Relish! menu plan service (preferably within the first few months of beginning their subscription) with links to the Relish! website and social media platforms.
If this sounds like a good fit for you, click the link below to apply to their blogger outreach program:
If you have questions, you can contact Fawn, fellow ARWB and Relish! Blog Ambassador at fawnwarner@gmail.com.