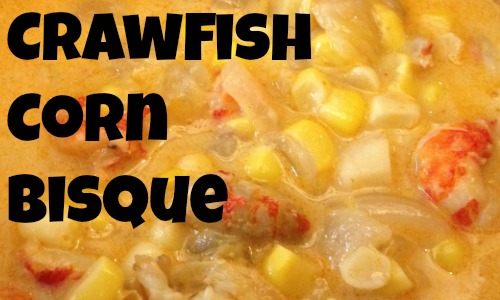 For as long as I can remember, I have had a love of seafood. Give me some restaurant options and I'll always pick the seafood one. Put some fish, shrimp or crawfish on my plate, and I'll eat until I simply can't place another bite into my mouth. There was no doubt, of course, that I was going to really like this Crawfish Corn bisque.
With all that being said, the one thing I was most excited about when my brother-in-law announced his move to SouthLouisiana was getting to visit and eating some real Cajun-style seafood. Our first visit was not long after they moved, and I have to admit I was pretty disappointed in our meal options. But visit after visit our food options definitely improved.
Then on our most recent visit to Cajun country, my sister-in-law served Crawfish Corn Bisque. It was a recipe that had been given to her by a lady in their church, so I knew before I ever took my first bite that it was going to be delicious. And I was not disappointed.
I quickly jotted down the recipe for myself to bring back home to southArkansas. Of course, I've never been able to make it taste exactly like it does in southLouisiana, but it's close enough to make me a happy seafood lover now and then.
Crawfish Corn Bisque
2015-05-28 15:35:27
Serves 8
Ingredients
1 white or yellow onion, diced
1 green bell pepper, diced
1 stalk celery, diced
1 can tomatoes with green chilies such as Rotel
1 15-ounce can cream-style corn
1 15-ounce can whole kernel corn (do not drain)
4 ounces processed cheese such as Velveeta
8 ounces cream cheese
1 pint heavy cream
1 quart Half & Half
1 pound frozen cooked and peeled crawfish tails, thawed
Instructions
n a large stock pot, sauté the vegetables until just tender.
Add the Rotel tomatoes, both cans of corns, the Velveeta and cream cheese; stir until fully melted.
Add remaining ingredient and season to taste (We like Cajun seasoning but salt and pepper will work.)
Simmer until desired thickness
Serve as is or over prepared rice or corn chips,
Arkansas Women Bloggers http://arkansaswomenbloggers.com/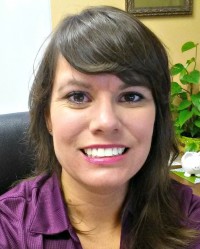 Getting to Know Your ARWB Foodies
Karen Weido
Ting's Mom

What food reminds you of childhood?
Fish sticks with Mac & Cheese. I'm an extremely picky eater, and growing up this is about all I would eat. So basically, this was my meal every single day.
What is your favorite international cuisine?
Italian. I could eat pasta all day long. I love it!

What is always in your refrigerator at home?
Milk and sweet tea
What is your most used cookbook?
My own. When I got married mine and my husband's families gave us family recipes on index cards. I put them in a photo album and I use it more than anything when I'm cooking.
What is your favorite kitchen gadget?
I don't even know what it is called, but it is a smasher thing I got from Pampered Chef. It breaks up ground meat, shreds cooked chicken, purees tomatoes, etc. I use it almost daily.
Do you have a favorite food indulgence?
Buttery breads. I just can't stop.
What is your go-to ingredient that you use time and time again?
Cajun seasoning. It doesn't matter what I'm cooking, it gets a dash of Ccajun seasoning. I was visiting family in New Iberia and found a homemade one that I love. Every time our family gets together, I get them to bring me several bottles of it.
What is your favorite food meal to cook at home?
Fried deer steak with mac & cheese and mashed potatoes. My entire family loves it and you can't go wrong with that combo..

What is a cooking tip that you would like to share with beginning cooks?
Learn by screwing up! When I got married I could only cook mac & cheese and scrambled eggs. I've learned from experimenting and serving some really bad meals.
When you're not cooking, what are your favorite pastimes?
Reading
What else would you like us to know about you?
I'm hardly a Foodie! I don't eat fruits or vegetables, and I'm doing good to get food on the table each night. But when I find a recipe I love, it gets added to my cookbook and then I work to make it the best I can.
Connect with Karen:
Twitter: @tingsmom
FB: Ting's Mom Blog
FB: Karen Weido
Instagram: @tingsmom
{ 0 comments }