During the month of April, ARWB is highlighting one of our long-term supporters, Petit Jean Meats. Thanks PJM for all you do for us. Follow them on Twitter, Instagram, Facebook.
Growing up in Arkansas, we were always excited when we knew Petit Jean meats were being served. Petit Jean really is synonymous with Arkansas, my memories are almost as thick as shelling purple hull peas with my family on our front porch. Whenever my mom would bake a Petit Jean ham, we would be so excited to eat on it for days. Mother would serve some leftover for sandwiches, but most of the leftovers were used to serve up some of our favorite meals.
I have followed in her footsteps in as many ways as possible and today, make many of those same meals. One of my family's favorites is when I use leftover ham slices to stuff chicken breasts, you can even add some cheese to make it is somewhat like a chicken cordon bleu. It is really simple and even more so as I have found my family prefers it without breading.
You really only need a few simple ingredients to make a delicious main course your family will be asking for again and again.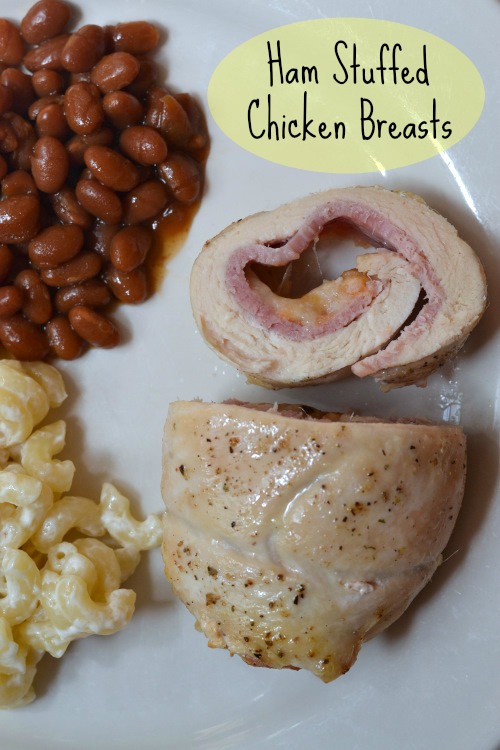 Ham Stuffed Chicken Breasts
2015-04-22 06:02:33
Ingredients
4-5 chicken breasts or cutlets
4-5 Petit Jean ham slices
4-5 cheese slices (Swiss or another sharp cheese)
1/2 teaspoon garlic powder
1/2 teaspoon onion powder
1/4 teaspoon dried thyme
1/4 teaspoon and pepper
1-2 tablespoon olive oil
Instructions
Begin by preheating your oven to 350 degrees.
If you are using full chicken breasts, cut the thickest part of the chicken breast in half. If it is still over an inch thick, sandwich it between two pieces of parchment paper and use a meat tenderizer to help flatten it a bit.
Next layer a piece of ham followed by a slice of cheese.
Starting at one end, begin to tightly roll the chicken in. Once you have rolled it, you can secure it with baking twine or toothpicks.
Place into a baking dish. Drizzle with olive oil and then desired spices.
Depending on the thickness of your chicken breast, bake 35-40 minutes or until 160 degrees internally. The cheese should be melted and dripping.
Arkansas Women Bloggers http://arkansaswomenbloggers.com/
It really is such a simple dish to prepare and yet the taste is amazing! My family loves it to be served with homemade macaroni and cheese, baked beans and vegetable sticks. The hardest part might indeed be deciding what to serve alongside these delicious stuffed chicken breasts!
You can also make more than what you need and freeze them for later. In this case I would suggest not using toothpicks or removing them once you flash freeze the chicken breasts. To freeze, after you have added your spices, place in a single layer on a flat sheet into the freezer. After 30-45 minutes, remove from the freezer and gently place in a freezer bag. This should allow you to remove just the amount you wish to prepare next time. If frozen, bake an additional 15-20 minutes.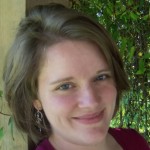 Getting to Know Your ARWB Foodies
Amanda Fiveash
Our Homemade Life

What food reminds you of childhood?
There are oh, so many!
Cheese dip-my Mother's favorite!
Strawberries-we use to pick them and eat more than made it into our baskets.
Purple hull peas-takes me back to sitting on the front porch and shelling them until my fingers were purple. Good times, great food and cherished memories are brought back when I smell them cooking.
What is your favorite international cuisine?
Mexican food has always been one of my favorite types of cuisine. It is amazing to me that they can use such simple ingredients (beans and rice) in so many dishes to make them delicious and flavorful.
What is always in your refrigerator at home?
Almond milk, goat cheese, carrots and celery
What is your most used cookbook?
It is one my mother gave me when I got married; it has a few of her notes added in the pages.

What is your favorite kitchen gadget?
Hard one…there are so many but I have to say I have a deep love for my slow cooker. It saves me on so many days!
Do you have a favorite food indulgence?
Chocolate! Anything with chocolate in it

What is your go-to ingredient that you use time and time again?
Coconut oil, it is amazing!
What is your favorite food meal to cook at home?
Pasta. My kids are always asking for spaghetti and meatballs.

What is a cooking tip that you would like to share with beginning cooks?
.Don't be afraid to try. You will never know if it will be something amazing if you don't attempt it. And it doesn't always look pretty, but that doesn't mean it isn't absolutely delicious!
When you're not cooking, what are your favorite pastimes?
I love to craft. My children and I are excellent creative mess makers.
What else would you like us to know about you?
While I am not a chef by any means, I love to take simple natural ingredients to feed my family wholesome meals. As a homeschooling family, we spend a lot of time in the kitchen and love to bake even more than we love to cook. My door is always open, but you are likely to find a pile of dishes in the sink. I firmly live by, "Please excuse my messes, we are busy making memories."
Amanda was born in Arkansas and although lived in several other states, returned home to put down roots before starting her own family in Northern Arkansas. Her blog, Our Homemade Life is a creative outlet to share her adventures in motherhood from making messes with crafts and in the kitchen to homeschooling and their love of family travel
Connect with Amanda:
Twitter: @ourhomemadelife
FB: Our Homemade Life
Instagram: @ourhomemadelife
{ 0 comments }