By Mel Lockcuff, Miss December 2014
Lately, I've written so much about Christmas trees, you'd think I'd be tired of it by now. But I don't think I could ever tire of the Christmas tree. Every year I'm chompin' at the bit, so excited to get it up; and I put off taking it down for as long as humanly possible. We've been known to still have our tree up come Valentine's Day.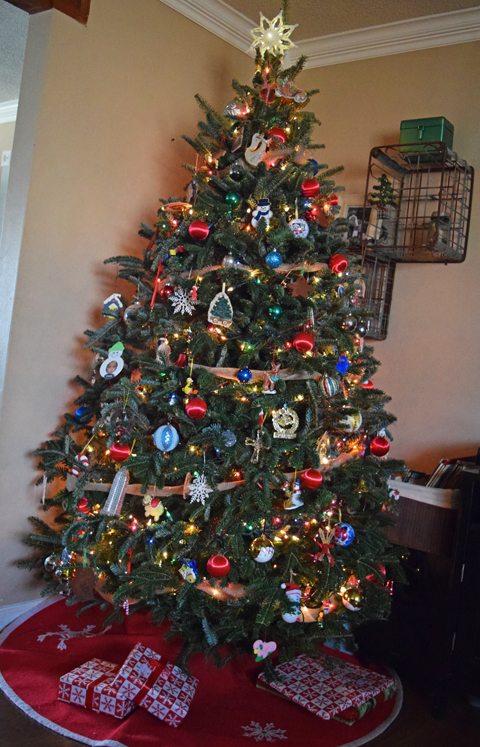 This week I thought I'd take you on a little tour of our Christmas tree. The kids insisted on a real tree this year; I can't imagine going back to artificial. This Fraser Fir smells so good and brings back so many memories. With the amount of needles that are already falling, I am hoping that it lasts 'til Christmas, though. I'm not gonna lie; it's a little concerning.
Back to our tour, though… Normally, we have silver tinsel, icicles, and every ornament possible on the tree. This year we took a more laidback approach to decorating the tree. We added the lights and a little burlap. Funny story about the lights… We had good intentions when we purchased LED lights. We put them on the tree and couldn't stand the way they looked or the way they blinded us if we turned our head a certain way when we were looking at the tree. So, we unwrapped the LED's and added regular lights instead. While our tree may be a bit bad for the environment, it sure is easy on the eyes. When asked if white lights or colored lights are better, we add both. I love the white lights; my kids and Dan love the multi-colored lights.
Now for the special, sentimental portion of this post…the ornaments. I've often told Dan that if we had another house fire, if I had the choice to save something and everyone was safe, our Christmas ornaments are one thing I'd try to get. A good portion of our ornaments belonged to my grandma; in fact, I remember helping her decorate her tree with quite a few of the ornaments we hang on our tree now. The kids ask about the ornaments, and it's fun to be able to talk about why certain ornaments are so special.
A few of the ornaments my grandpa made; he was a needlework pro and loved tatting, up until he had his stroke. Anything he created was so, so special. We have ornaments with dated years on them; I think my grandma must have gotten some of them from magazines she was subscribed to. Santa in a roadster… Need I say more? Anything with pictures of our boys, like one of the first times Jacob met Santa… the Empire State Building from a trip with my mom to NYC…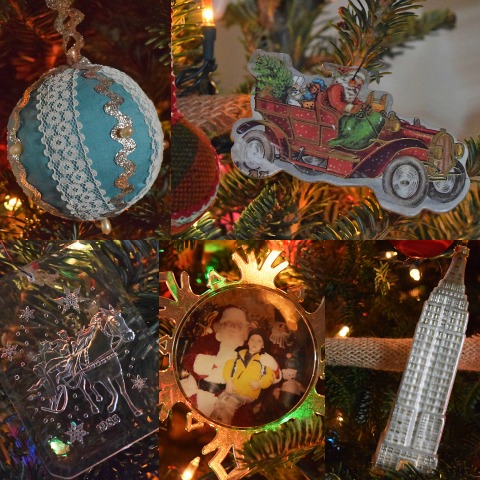 A glass snowflake ornament I bought for my grandma when I worked at the BonTon Department Store in New York… These red silk ball ornaments that Grandma had on her tree every single year (I know they seem so simple, but I just love them)… Ornaments from some of our family adventures… Ornaments we've made together or the boys have made, like smell good, cinnamon, holiday shapes or painted ceramic/wooden ornaments… The little fabric stuffed Christmas tree my school van driver gave me when I was just a little girl… Anything vintage.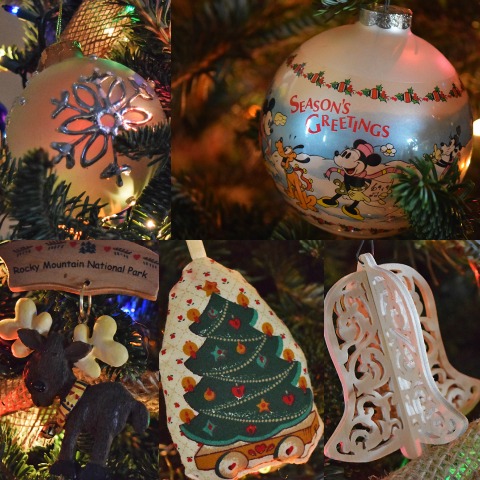 I could go on and on, but I'll stop here. Of course, I can't forget the star on top of the tree. Our Christmas tree brings a touch of cozy, a bit of merry, so many memories, and a whole lotta sentimental holiday spirit.
Do you have your tree up? What's special to you about your tree?
{ 0 comments }