You might call me an occasional cook.
I have good-cooker genes in spades, but I haven't brought them to a complete boil yet. You might say my skills are blanched, at best. Or maybe parboiled?
I like to cook when I have time or if I'm in the mood for a specific dish (which is almost always this Creamy Tomato Bowtie Pasta for me). I like to cook when I want to serve up a big helping of love to my husband and this when I want to make my picky tween-age daughter happy.
Even though I didn't spend much time actually preparing food when I was a kid, I absorbed lots of cooking terminology while watching my mother, aunts and grandmothers flit about the kitchen, simultaneously sautéing while prepping homemade biscuits for the oven.
Because of those amazing home cooks, I innately know what it means to fold, dredge, julienne and caramelize.
I also learned it's not a big deal to keep measurements completely precise, unless you're baking, that is. And for Heaven's sake, if you don't like an ingredient in your chicken salad (recipe below!) or chicken pot pie – or whatever you're making — just leave it out, replace it with something you like better or use more (or fewer) of the called-for ingredients. It's all about customization in your kitchen.
I remember my best friend in middle school marveling at how I could cook up a tasty pot of macaroni and cheese without measuring out the six cups of water as instructed on the box. And how did I know to add a splash of olive oil to the pot so the water wouldn't boil over?!
As with most of the cooks in my family, I just "eyeball it" when it comes to measuring.
My mother is the Queen of the Kitchen. She can pull together the most complicated meals at top speed. It ain't no big thing for her to whip up some chicken and dumplings while making a from-scratch blackberry pie with the fruit her granddaughter just picked from the bushes up by the horse barn (that happened several times this summer).
Compared to my relatives, I'm not the Master of my Kitchen yet, but I'm becoming more advanced the older I get.
I prefer to cook a little more simply, though. Maybe it's because I'm woefully inept at getting all the food on the table while everything's still hot. I still don't know how my mom does it.
One of my favorite (simplest, yet delicious) recipes right now is fall-inspired chicken salad.
I first made this fruited chicken salad recipe for a nautical-themed baby shower (link:http://nwamotherlode.com/archives/42840) at my house in Fayetteville back in May. Here's a shot of the cute "crabs" I served: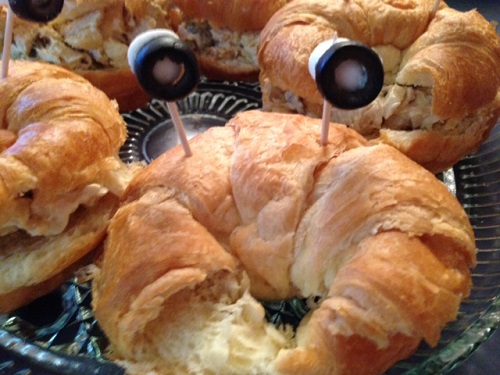 This recipe has become a go-to for me. I found it on the All Recipes website, but adapted it, i.e. added extra ingredients I liked and took out the ones I didn't. Like I said, super easy to make:.
Curry Chicken Salad
2014-10-19 16:35:00
Ingredients
4 skinless, boneless chicken breasts (cooked, diced)
1 small red apple (cored, diced)
1 small Bartlett pear (cored, diced)
1/3 cup raisins
1/3 cup halved green grapes
½ teaspoon curry powder
½ teaspoon onion powder
1 cup mayonnaise (less if you like your chicken salad drier)
Salt (to taste)
Pepper (to taste)
Instructions
Mix diced, cooked chicken with mayonnaise.
Then add curry powder, onion powder, salt and pepper. Stir.
Next, add fruits and gently stir until well mixed.
You can serve immediately, but it always tastes better after it's been in the fridge for an hour or two.
Arkansas Women Bloggers http://arkansaswomenbloggers.com/
You can serve this chicken salad on croissants, fancy flatbread (or any bread, really), atop a salad (if you're making a salad, consider cutting the pear into larger pieces and adding to the top for pretty) or just as an entrée on the plate by itself.
Here, I just made a quick salad and added a dollop of the chicken salad on top (I didn't have green grapes, so I used red):
I hope you enjoy the crunch of this chicken salad and happy fall! Here's to eating at tables brimming with your favorite foods, friends and family. Cheers!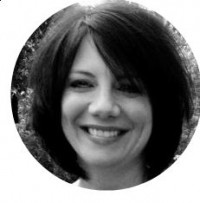 Shannon Magsam is mama to one little lady(bug), is married to a long-time newspaperman, John, and co-founded nwaMotherlode, a resource website devoted to entertaining and connecting moms and families in Northwest Arkansas. nwaMotherlode offers advice, health information, book reviews, local mom interviews, recipes and much more.
{ 1 comment }