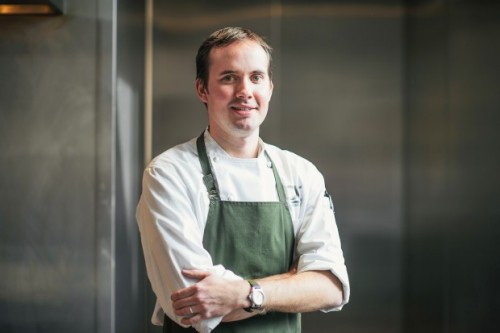 At the Hive, I often preach about celebrating the season. Here, we write ingredient-driven menus. This means that what is ripe and coming out of the ground is what we will be working with for tonight's dinner. During the summer months, this philosophy is easy to manage with a great variety of produce coming in the door from our local farmers. The Arkansas climate gives us a long growing season and produces some of the most delicious fruits and vegetables I have ever tasted. Going to the farmer's market and seeing these foods inspire me. It's a great season, with lots of opportunity to play with new ingredients and create fun, new dishes. We are also busy preserving the season by making peach butter, ground cherry jam, blueberry jam, pickled cucumbers, green tomatoes and green beans. I refer to it as building our pantry. Having these house made items on hand to pull from later in the season keeps our menu fresh during the winter months when there is not much growing. This kind of cooking gives us the opportunity to offer our guests a unique Arkansas culinary experience.
I feel that the history of food and cooking in Arkansas is humble and honest. My grandmother had a garden, fruit trees and some livestock in her backyard. She would pick blackberries from wild bushes nearby. Eating local and preserving the harvest weren't tag lines then. It was just life in rural Arkansas. That sense of time and place has motivated me to cook the way I cook.
In developing the recipe for this Watermelon Gazpacho, we wanted to utilize several ingredients that can be found at the market at the same time. This recipe is completely dependent on the quality and freshness of the produce used. It is fairly easy to prepare, but does require a little planning ahead. Watermelons have a unique flavor– they are sweet with a crunchy texture. We balance this sweetness with a little red wine vinegar. The vegetables are all rough cut in similar sizes and seasoned with a little salt and vinegar. This is allowed to steep overnight to develop all of the flavors and "cook" the vegetables. Gazpacho isn't supposed to be fancy salsa. Once the vegetables have marinated overnight, the sachet of aromatics is removed and the vegetables are pureed. This is seasoned with salt, olive oil and red wine vinegar. This is a soup that is great for summer's hot weather. It's served chilled and is very refreshing.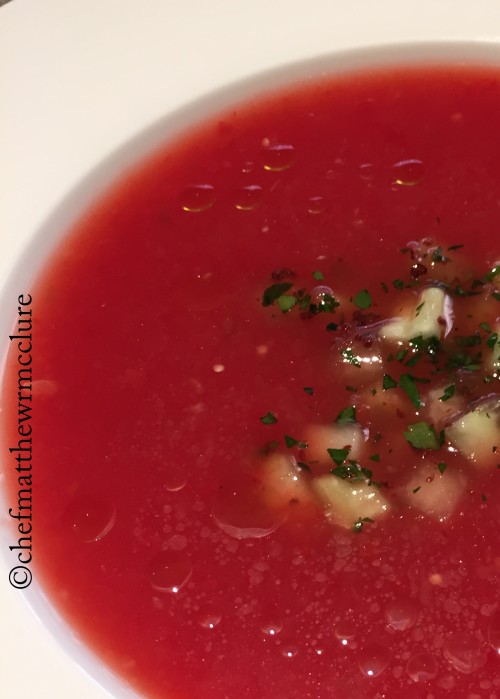 Watermelon Gazpacho
2015-08-20 07:08:30
Serves 10
Ingredients
1 1/2 watermelons, peeled and fleshed
2 cucumbers, peeled
8-10 tomatillos, paper removed, rinsed and quartered
3 Fresno chilies
3 pounds red bell peppers
1 red onion
¼ cup red wine vinegar (adjust to taste)
1 1/2 cups extra-virgin olive oil (adjust to taste)
Kosher salt to taste
Sachet
5 sprigs basil
2 cloves garlic
½ Jalapeno, split
Instructions
Cut and marinate all vegetables in salt and vinegar for at least 1 hour.
Puree vegetables with stick blender.
Add sachet and leave in soup for 8-12 hours while in refrigerator.
After 12 hours, remove sachet and run through a food mill to remove seeds and large chunks.
Blend in extra-virgin olive oil and adjust seasoning to taste.
Arkansas Women Bloggers http://arkansaswomenbloggers.com/
Getting to Know Your ARWB Foodies
Matthew McClure
The Hive

What food reminds you of childhood?
My grandmother's scrambled eggs. They had so much flavor and were so creamy. Finally, I learned her secret, which was Philadelphia cream cheese. Delicious!
What is your favorite international cuisine?
Mexican, Indian, Korean…I could never choose which one I like more. They all cook with inexpensive cuts of meat and spice them aggressively with their own cultural blends.
What is always in your refrigerator at home?
I always have some sort of pickled vegetable.
What is your most used cookbook?
The Flavor Bible, by Karen Page and Andrew Dornenburg. Our menu at The Hive is very ingredient driven. I go to the farmers market, find the foods that I feel look and taste best, and then we change the menu. This book gives great suggestions of different flavors that pair well with each other.
What is your favorite kitchen gadget?
My Pacojet. It makes the smoothest ice creams and sorbets.
Do you have a favorite food indulgence?
Many…fried chicken, an Indian dish called Bhindi Masala, which is an amazing okra dish. Last meal material.
What is your go-to ingredient that you use time and time again?
I love to use a variety of dried chilis. Guajillo, marash and Calabrian my go-tos.
What is your favorite food meal to cook at home?
For comfort food, chicken and rice is a house speciality. I also love making fresh masa tortillas and homemade Mexican food.

What is a cooking tip that you would like to share with beginning cooks?
Always taste your food throughout the cooking process. Also, make sure you have a sharp knife, brand doesn't matter.
When you're not cooking, what are your favorite pastimes?
Fishing, canoeing, hiking and cycling. I really enjoy being outside.
What else would you like us to know about you?
I'm on a mission to prove that Arkansas food has a place at the national leConnect with Matt and The Hive:
Twitter: @MatthewrMcClure
@21CBentonville
FB: The Hive
FB: Matt
Instagram: Matt
21C Museum Hotels
Matthew McClure, featured chef at #AWBU #Foodie Friday 14, was born and raised in Little Rock, Arkansas, where hunting, fishing and his grandmother's cooking ignited his passion for food. After studying at the New England Culinary Institute in Vermont, he settled in Boston working at a number of restaurants including Troquet, Harvest and No.9 Park under the direction of Barbara Lynch.
After years in Boston, Matt was eager to get back to his home state to reconnect with the ingredients and foodways of his childhood. He returned to Little Rock where he worked under Lee Richardson at Ashley's at the CapitalHotel, developing strong relationships with local farmers and producers and rediscovering the agricultural resources of his home state.
In 2012, he was selected to open The Hive located at 21c Museum Hotel. His cooking is reflective of both the history and geography of Arkansas as well as new immigrant communities and their influence on the culinary landscape. His longstanding and outspoken commitment to support local farmers and purveyors has cemented his position as a notable champion for Arkansas's burgeoning culinary renaissance. Matt was a Semifinalist for the 2015 James Beard Foundation Best Chef: South award and named FOOD & WINE The People's Best New Chef in the Midwest region. He is also an active member of the Southern Foodways Alliance.
About The Hive
The Hive featuresexecutive chef and Arkansasnative Matthew McClure's take on refined country cooking, and seeks to articulate the unique culinary identity of Arkansas. McClure has developed a program that is true to the High South and showcases the region's farmers and culinary landscape, highlighting local ingredients such as black walnuts, sweet onions, freshly milled corn meal, hickory smoked hams, peaches and melons. McClure's menu is a contemporary take on the foods and ways of cooking that are familiar to the region such as pickling and preserving, making jam, and sourcing whole animals whenever possible.
The restaurant is located in the 21c Museum Hotel, at 200 NE A Street in Bentonville, Arkansas. Reservations are recommended and can be made by calling 479.286.6575.
{ 0 comments }