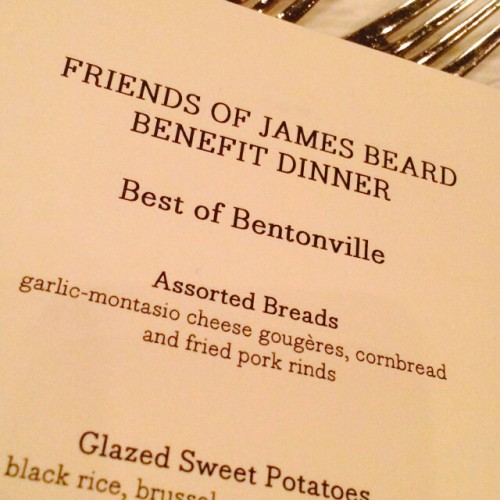 I was pleased to represent Arkansas Women Bloggers as a guest of Crystal Bridges at the Friends of the Beard Foundation Best of Bentonville Benefit held at 21C Museum Hotel on November 8 featuring the culinary work of Chef Rob Nelson of Tusk & Trotter American Brasserie, Chef Matt McClure, a Beard semifinalist for best chef Sotuh, of The Hive and Chef Bill Lyle of Eleven at Crystal Bridges Museum of American Art. Chef Case Dighero served as emcee of the event while engaging the audience during interviews with the chefs and tales of their experiences at chef's boot camp at the Beard Foundation in New York City. It was especially interesting to hear their thoughts on sourcing locally produced foods for their restaurants. Eating locally from our Arkansas producers and farmers is near and dear to my foodie philosophy. All of the dishes presented during the evening were prepared with ingredients from farms and orchards in Northwest Arkansas.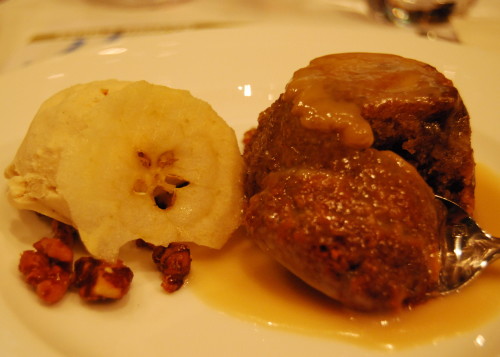 I will be sharing the recipe for this spectacular dessert of Sticky Toffee Pudding and Arkansas Black Apple Ice Cream created by Chef McClure. You'll be able to view that on my blog soon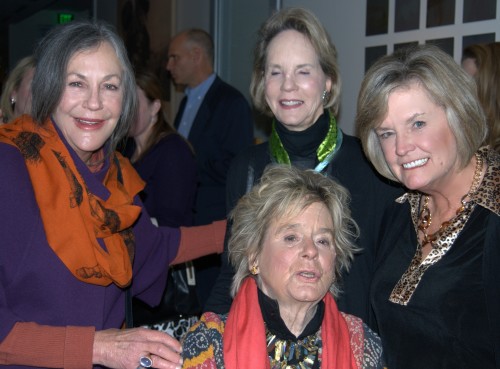 A strong supporter of the culinary opportunity and development as well as the arts in Northwest Arkansas, Alice Walton, chose to entertain her weekend guests by treating them to the Best of Bentonville dinner. Phyllis duPont Wyeth, wife of Jamie Wyeth , and her sister Mimi duPont Abel Smith, were highly complimentary of Crystal Bridges and the NWA area. The Jamie Wyeth exhibition opens at Crystal Bridges in the summer 2015.
Come join me on my blog as I share dishes from our dinner menu.
MENU
Hors d'Oeuvre
Ozark Pumpkin Arancini
Duck Prosciutto–Pepper Jelly Canapés
Chicken Liver Pâté
Black Walnut Moonshine Cocktails
Dinner
Assorted Breads > Garlic–Montasio Cheese Gougères; Skillet Cornbread; and Fried Pork Rinds
Glazed Sweet Potatoes with Pecans and Brussel Sprouts
Braised Arkansas Rabbit with War Eagle Mill Barley Risotto, Minted Black Apples, and Carrot Caramel
Marinated and Grilled Venison Flank Steak with Stewed White Beans, Ham Hocks, Tomato Confit, Pickled Shiitake Mushrooms, Grilled Scallions, and Mountain Bird Coffee Red Eye Demi-Glace
Sticky Toffee Pudding
A selection of fine wines will be served with this dinner.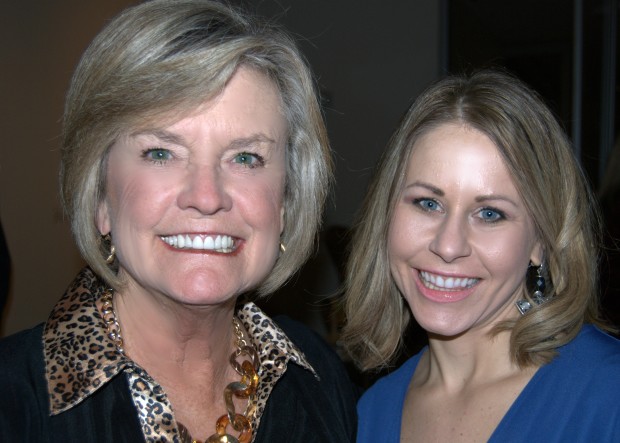 Many thanks to Beth Bobbitt, Media Relations Manager at Crystal Bridges, for extending the invitation.
{ 0 comments }