by Anita Stafford
After a long winter of buying food that has been grown hundreds, sometimes thousands, of miles from home, it's a happy day for me in Northeast Arkansas when the ASU Regional Farmers' Market opens again for business. The market is located at the corner of Stadium Boulevard and Aggie Road, just across from the beautiful Red Wolves Stadium in in Jonesboro. Produce sold at the market is grown by local farmers, and selection varies with the weather and time of year. In addition to seasonal produce, you can expect to find a variety of plants, honey, jellies, eggs, and baked goods. Shoppers enjoy live music, and there are also children's activities available.
On my first trip to the ASU Farmers' Market this year, I was drawn to these appealing jalapeño peppers. As soon as I saw them, I knew I wanted to take home a whole box of them for some weekend appetizers.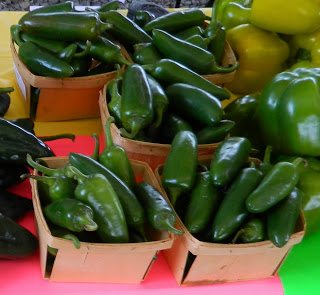 The peppers were large and fresh, so I took them home and found an old favorite recipe for Sausage Stuffed Jalapeños.
Sausage Stuffed Jalapeños

1 pound sausage
1 (8 ounce) package cream cheese, softened
1 cup shredded Parmesan cheese
1 pound large fresh jalapeño peppers, halved lengthwise and seeded
Preheat oven to 425 degrees F. Line a sheet pan with aluminum foil; spray lightly with cooking spray. Brown sausage in a large skillet over medium heat, cook until evenly browned; drain grease. In a large bowl, mix the browned sausage, cream cheese, and Parmesan cheese until well blended. Spoon about 1 tablespoon of the mixture into each jalapeño half. Arrange stuffed halves on prepared baking sheet. Bake for 20 minutes or until bubbly and lightly browned.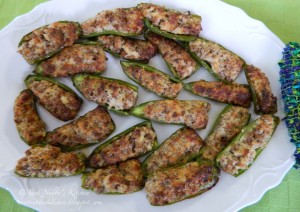 A batch of these little appetizers won't last long, so grab a couple; just don't burn your tongue!
I can't wait to see what's at the Farmers' Market next week, the local produce is just so much fresher and tastier, and I'm pretty sure it's more nutritious too. My taste buds are happy.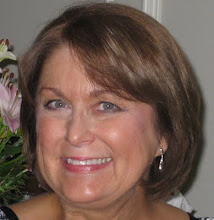 I'm Anita, and I blog at Aunt Nubby's Kitchen where I'm always striving to make my house a welcoming home for friends and family. I'd love for you to visit and check out the recipe index and home organization tips. When the cooking's done, I also blog about children and family relationships at The Family Dance. Stop in for a visit there too!
{ 2 comments }