Do you have an amazing blog post from your blog that you'd like to share? All you DIY/Crafty gals, let's show off your skills! Do you have a post on social media or blogging tips that could help your fellow community gals? How about that inspiring post that you poured your heart and soul into? We would like to post a short excerpt and link to the full post on your blog!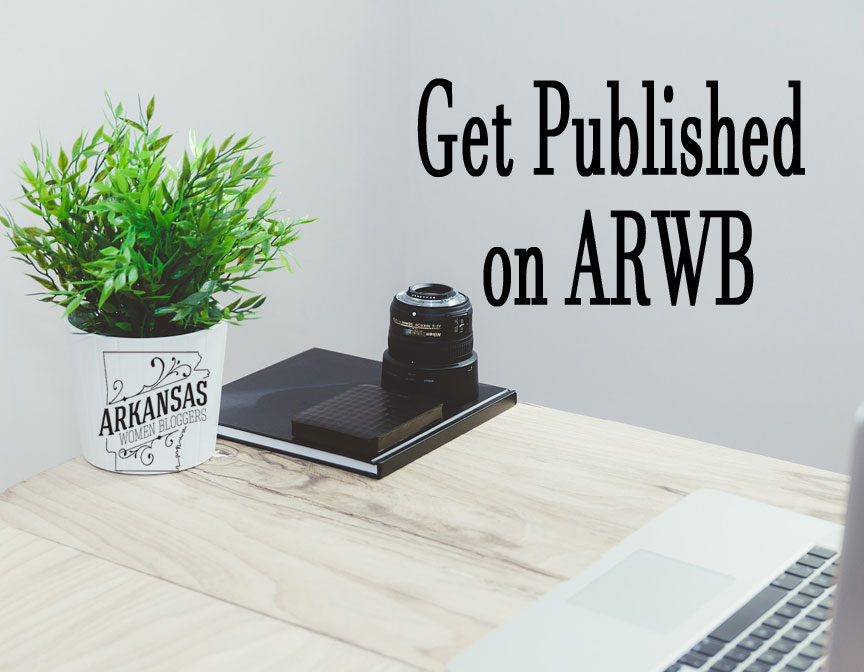 We are always looking for unique and relevant content that would be beneficial to our site and inspiring to our readers.
Below you will find basic posting guidelines and instructions.
Before submitting your post for consideration, please note the following guidelines:
Submission of your guest post does not guarantee publication. Your submission will be reviewed and if it will benefit the readers of Arkansas Women Bloggers, it is likely to be published.
Preference will be given to those who express a genuine interest in arkansaswomenbloggers.com as a reader and a follower. While our ultimate goal is to get your name out there as a blogger, submissions with "check out my product" feel will not be accepted.
Posts and photos must be high-quality content.
Post:
When you submit, make sure that the post is in final format (edit, edit, edit).
Please title your post.
Note that we are happy to include links to your blog, other posts you've written on your topic, or other helpful resources. We do not accept keyword links back to third-party businesses unless relevant to your topic. If we feel that there are too many links in a post, we may edit some out at our discretion.
We ask that you don't "pimp" out giveaways, products, or events.
Links in the text:
Please hyperlink any outbound links.
Any links within your post should be relevant and valid. Irrelevant links and non-working links will be removed without any notice.
IMAGES:
If you use a photo, including clipart and graphics,that is not taken by or made by you, we must have written permission from the photographer in order to use it.
Please resize all photos to at least 650 pixels wide.
Please name the photo with a searchable keyword (ex. NO: hotdog1, hotdog2, YES: Petit Jean hotdog with relish)
Blurry photos will not be accepted.
Any photos not formatted to the above specifications will be returned to you to fix.
Bio and Head shot:
Please include a short 3-5 sentence bio that we can place at the end of your post. If you had a professionally done head shot and were given permission to use it you may use that in your post.)
Editing:
We may edit your piece for grammar and usage errors. If we feel any edits are needed to the content, we will contact you.
Controversial Topics:
While we want you to write about what you are passionate about, we do ask that you avoid highly controversial topics or topics that are highly political or highly religious. We are a community of many and while we realize that our group is full of different opinions and beliefs we do not want to create an environment that alienates anyone. If you choose to discuss religion or politics in your piece please do it in a community friendly and nonjudgmental way. Thank you for your understanding on this matter.
Requirements for Submission:
You are a registered member of ARWB.
You have followed our posting guidelines listed above.
Your piece is determined to be beneficial to our readers.
We have available space in our editorial calendar.
Content will NOT be accepted from any non-members.
Compensation:
Unfortunately, at this time, we are unable to financially compensate you for the content that you provide to our site. With that being said, ARWB, through The Women Bloggers LLC, does strive to locate paid writing opportunities for our member bloggers on sites that have the financial ability to compensate for content. You can connect with our Blogger Opportunities Facebook page in order to be notified of such opportunities. Paid opportunities are subject to each clients approval and may be based on an application or proposal. Writing a guest post for ARWB does not guarantee selection for paid opportunities.
Promotion:
Blog posts are promoted on all of our social media channels.
Licensing Agreement between you as "Author" and The Women Bloggers Group LLC ("The Women Bloggers")
1. GRANT OF LICENSE. By submitting content to The Women Bloggers dba Arkansas Women Bloggers, Author hereby grants to The Women Bloggers a non-exclusive license to use content (regardless of the form or medium of such content, whether text, videos, photographs, audio or otherwise), submitted to The Women Bloggers now or in the future (collectively, the "Materials") for use or possible use on The Women Bloggers's owned website, ArkansasWomenBloggers.com (the "Site,") in accordance with the terms of this Agreement. The license granted hereunder includes the perpetual, world-wide right to edit, reproduce, use, display, license, print, publish, promote, distribute, store, and otherwise exploit the Materials (either in the form submitted or in the form of a derivative or adapted work), in connection with the Site, or in any other manner and in any medium or forum, whether now known or hereafter devised, which is related to or derivative of the Site in any way including promotion or marketing of the Site. The Women Bloggers agrees that it will use its best efforts to give proper attribution to the Author each time the Materials are used.
2. REPRESENTATIONS AND WARRANTIES. Author shall be solely responsible for Author's submissions and the consequences of posting or publishing them. Author represents and warrants that Author has the full legal right, power and authority to grant the license provided for herein to The Women Bloggers, and that Author owns or controls all rights to the Materials. In connection with each of your submissions, you affirm, represent, and/or warrant that:
1. You own or have the necessary licenses, rights, consents, and permissions to use and authorize The Women Bloggers to use all patent, trademark, trade secret, copyright or other proprietary rights in and to any and all such submissions to enable inclusion and use of such submissions in the manner contemplated by The Women Bloggers and this Agreement;
2. You have the written consent, release, and/or permission of each and every identifiable individual person in such submissions to use the name or likeness of each and every such identifiable individual person to enable inclusion and use of such submissions in the manner contemplated by The Women Bloggers and this Agreement. In furtherance of the foregoing, you agree that you will not: (a) submit Material that is copyrighted, protected by trade secret or otherwise subject to third party proprietary rights, including privacy and publicity rights, unless you are the owner of such rights or have permission from their rightful owner to post the Material and to grant us all of the rights granted herein; (b) publish falsehoods or misrepresentations that could damage us or any third party; or (c) submit Material that is unlawful, obscene, defamatory, libelous, threatening, pornographic, harassing, hateful, racially or ethnically offensive, or encourages conduct that would be considered a criminal offense, give rise to civil liability, violate any law, or is otherwise inappropriate. The Women Bloggers reserves the right to remove or not publish submissions without prior notice.
3. INDEMNIFICATION. Author shall indemnify, defend and hold harmless The Women Bloggers and its licensees, successors and assigns, and each of its members, officers, agents, and employees from all liabilities or losses, including, without limitation, reasonable attorneys' fees, arising out of or related to The Women Bloggers's exercise of the rights granted herein.
4. GOVERNING LAW. This Agreement shall be governed by the laws of the State of Arkansas.